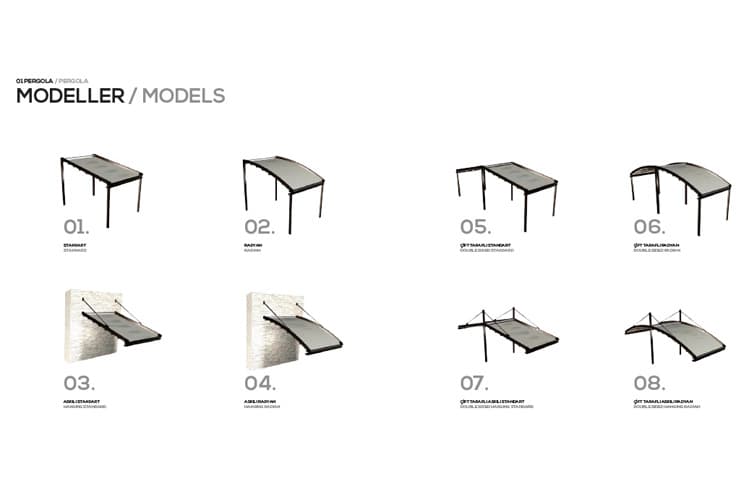 Retractable PVC Shading Systems and Pergolas Made In Turkey – HFC introduces you with a wide variety of Pergolas made in Turkey in order to satisfy diverse needs and requests. Pergolas are the key elements not only for shading purposes but also for expanding your space with elegance in any weather conditions. Additionally, it is an economic way to cover large open areas.Our products incorporate unique design and production elements, as well as specific properties of high quality materials to provide you with reliability, functionality and aesthetics.
The Radian Pergola waterproof curved awning system is designed to cover an area up to 84m² with single module of 12m width and 7m projection but it is also possible to link multiple systems by joining system that ensures 100% waterproof join every time.
This waterproof system is engineered to withstand wind speeds up to 100 km/h and to be resistant to rain, sun and 30cm snow thickness.
Electrostatic painted curved aluminum frame roof structure allows for overall maximum dimensions and the elegant design enhances any décor and outdoor space.
Self-supporting rail guide rafter profiles (150×70) are supported at the end of the profile by 80×80 or 100×100 pillars, allowing free spans of up to 7 meters without blocking your view..
The front beam  is designed as a rain gutter. The water drains away in the internal gutter system of the front pillars.
All screws, bolts and pins are high grade stainless steel to ensure extended system life.
The retraction of the system is driven by the 6 wheel slider carriages inside the rails. These slier carriaged works in conjunction with a timing belt that has been reinforced with multiple internal stainless steel cables to provide a reliable pulling strength and optimized tension.
HFC is proud to use world's leading manufacturer of specialized motors and remote control systems for retractable awnings. Remote-controlled motorization ensures smooth and quick operation. Optional centralized control system enables to use the same remote control to operate multiple roof system
The smart motor detection system closes the awning when objects are detected for obstacle avoidance or when the fabric is over stretched to protect the fabric from damage.
One of the most important part of the pergola systems is the lighting of the environment. HFC offers optional integrated LED lighting system with various model and color options. Drop or strip shape dimmable LED lighting solutions and  daylight or white color options are available according to your needs. Remote dimming control system allows you to change the mood of the environment.
HFC use architectural blackout fabric as retractable roof cover. Blackout membrane consist of high quality durable PVC blocks with 5 years warranty. The waterproof fabric is suitable for all weather conditions. It  provides excellent shading, UV protection for the prevention of heat transfer. The high tenacity fabric is also flame resistant. The fabric is available with three standard colors cream, white and gray with plain or 3D texture.
Edge seals are used both on the fabric and slider carriages. They are produced of high quality material to provide the ultimate protection against rain and draught intrusion.
There are also additional enclosure options with glass screens and guillotine window system as an additional protection from the weather.
Sample Photos For Retractable PVC Shading Systems and Pergolas
Other Shading and Pergola Systems Products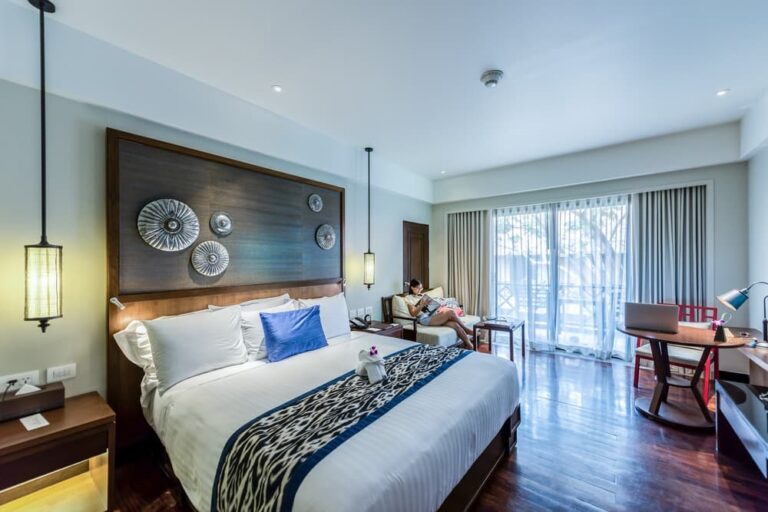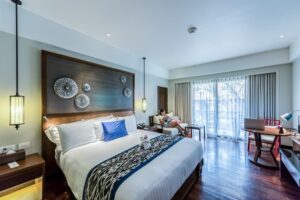 Where can I find high-quality hotel furniture in Turkey? When it comes to furnishing a hotel, finding high-quality furniture that meets your specific needs and
Read More »
Shading and awning systems are essential in covering over a large space area; however, you need to consider factors such as weather range, economy, and suitability regarding the existing environment. PVC shades and pergolas offer the most appropriate solution to the situation, as they allow you to flexibly expand the area while keeping most of the elegance and economy.
But what types of retractable PVC shades can you get? It would help if you considered the various kinds of pergolas and PVC shading systems on the market, as it enables you to narrow down on a plan which best suits your request and needs. The article highlights some of the more common retractable PVC shading systems and pergolas you can buy today especially shading systems made in Turkey.
The Radian Pergola Awning
It is one of the more bespoke types of retractable shades you can find currently. It features a waterproof design that would typically resist the elements; some branded radian shades can stand winds hurling at about 100km/h and snow up to 30cm thick.
Furthermore, the design can cover about 84 sq. meters with its 12x7m width-projection dimensions. However, if you'd prefer a broader coverage, the shade system supports linking with other radian systems. The frame would typically be of aluminum, which is a material that adds to the durability overall.
The retraction carriage runs on a six-wheel slider which is inside the rails. It would pair up with a timing belt for additional strength and pull force. The covers on the top would also be of flame-resistant fabric, which you might appreciate for its elegance and protection. Trust us this Pergola produced in Turkey is amongst the best money can buy
Slide on Wire Awning
The Slide-on wire awning systems is more suitable for a more delicate-looking appeal. The retractable design is generally of durable wire and aluminum clippings. It means that it is tough while looking dainty. You might prefer the Slide-on wire awning if you want to improve the space's appeal in addition to providing shade.
Lateral Arm Awning
Lateral Arm Awning works by folding into a mounted enclosure and extending when necessary. The system is mainly water-resistant and would suit situations when you need light protection from sunlight and rain.
Tension Shade Awning
A modern, comfortable shade type is the tension shade awning, which fits indoor and outdoor spaces. It utilizes membrane fabric panels that stretch at full tension; you'd then have an overhead shade that barely intrudes on overall aesthetics. Generally, you'd find upscale patios, glass porches, and other modern open-air structures using the tension scale awning.
Final Thoughts
Retractable awnings and shading systems are an excellent addition to open spaces, as they typically serve the double duty of providing shelter from sunlight and giving the area an appealing character. However, you'd have to consider what type of shade you'd need to avoid visual conflict within the space.
The shade types mentioned above are some of the more common awning types you can find of which the PVC pergola system is also a part. You'd have to build some of them to specification, while the others may come in a pre-fab format. The various awnings' strengths and weaknesses would allow you to make the right choice for your use case as you get to weigh the individual features.