HFC introduces you with a wide variety of Aluminium Bioclimatic shading system made in Turkey in order to satisfy diverse needs and requests. Aluminium Bioclimatic shading systems are the key elements not only for shading purposes but also for expanding your space with elegance in any weather conditions. Additionally, it is an economic way to cover large open areas.Our products incorporate unique design and production elements, as well as specific properties of high quality materials to provide you with reliability, functionality and aesthetics.
With the touch of a button, HFC Aluminium Bioclimatic shading system go from fully open to fully shut for the ultimate shade/cover solution. Our Bioclimatic Roof systems are manufactured from extruded aluminum, they offer greater durability than traditional plastic or fabric covers.
They can be lean-to-wall with supporting front posts or a freestanding module, giving you the opportunity to create an 'open-space' structure.
Rotating and retracting Aluminium Bioclimatic systems have low-maintenance durability. They can be placed anywhere for the desired amount of protection or ventilation, and they're easily integrated into smart-home technology.
You can easily adapt to the ambient conditions, choosing between sun, shade or shelter. During hot weather season it provides ventilation to prevent hothouse heat build up whilst retaining shade. You can enjoy sunny rays during a beautiful spring day or block out the rain to keep dry.( Off the end the louvers ensure that the rain diverted to an integrated gutter). And with such a contemporary look and feel, it is the best way to complement any architectural style.
One of the most important part of the system is the lighting of the environment. HFC offers optional integrated LED lighting system with various model and color options. Dimmable LED lighting solutions and  daylight or white color options are available according to your needs. Remote dimming control system allows you to change the mood of the environment.
There are also additional enclosure options such as guillotine window system for an additional protection from the weather. Integrated side screens can also provide protection from driving wind and rain along with offering additional shade from low level sunlight and added privacy.
Sample Photos For Aluminium Bioclimatic Shading System
Other Shading and Pergola Systems Products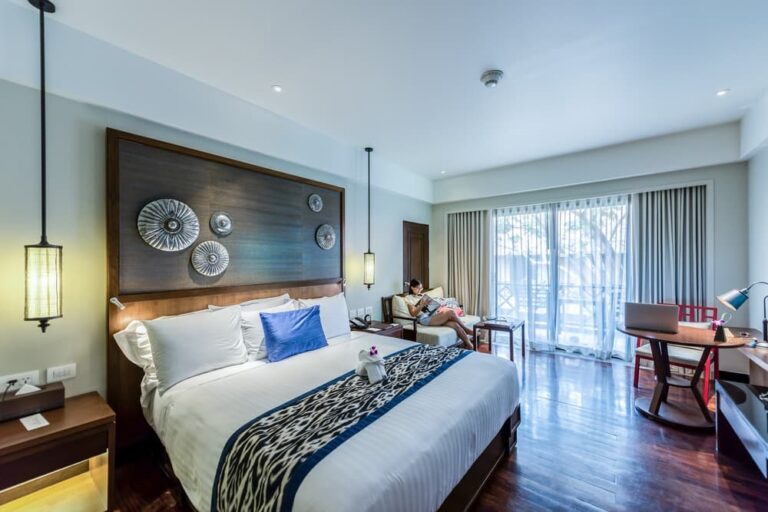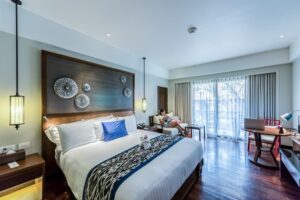 Where can I find high-quality hotel furniture in Turkey? When it comes to furnishing a hotel, finding high-quality furniture that meets your specific needs and
Read More »
Features of Bioclimatic shading system made in Turkey
Bioclimatic shading systems provide a wide range of benefits for users. First, it brings about an undeniable practical value to the table. The bioclimatic system functions as a shield that prevents sunlight from reducing energy consumption and Improves ventilation around the house. Second, Bioclimatic shading systems offer an impeccable aesthetic value that gives the feel of a modern bioclimatic structure. In an era of climate change where people resort to various means to manage environmental impact, having a bioclimatic shading system at hand is a step in the right direction. However, when you seek to install your bioclimatic shading system, you have to look towards the aluminium bioclimatic shading system made in turkey for high-quality materials. In this article, we examine why  bioclimatic shading systems made in turkey are rated as the best in the market.
They are made of Extruded Aluminum Material: Aluminum Bioclimatic shading systems made in turkey boast the highest quality material in the market; Extruded Aluminum. The producers choose this material because it is lightweight and robust, meaning that it can withstand high-pressure use in any condition without showing the slightest tinge of cracks. Furthermore, the materials' corrosion-resistant features suggest that the aluminium is protected by a natural oxide film, which protects against the elements and prevents rusting. Another consideration made in choosing this material is that it is an excellent thermal conductor. It can efficiently conduct heat and cold better than other materials in the market.
Integrated LED lighting systems: Turkish Manufacturers of bioclimatic shading systems use integrated LED lighting systems for various reasons. First, LED lighting systems consume low energy, are efficient, and durable enough to be integrated into bioclimatic systems. Furthermore, residents can set their light preferences with adjustable lights to meet varying conditions and seasons. With various models brought together, LED lights increase the aesthetic appeal and comfort of any bioclimatic shading system they use. The benefits of using LED lights cannot be downplayed, especially in an era where environmental changes demand more innovative ideas.
Guillotine Windows: Guillotine Windows are made of two vertical sliding glasses manually operated. Guillotine windows for bioclimatic shading are not far-fetched, it serves as protection against the elements. Furthermore, the Guillotine windows, unlike other window types, don't take up space when open. The designers deliberately choose functional aluminium windows for their functionality, coupled with their aesthetic appeal. Also, designers take appropriate care to ensure that users have complete control of their retractions. This way, they can choose their preferred settings and views. In most Guillotine windows, there are always options available for customization to customers' preference, meaning that depending on their needs or weather demands, features like insect or sunscreens.
Low Maintenance: Another distinguishing feature of the Choice of material for Turkish-made bioclimatic is that it is low-maintenance and durable for use under any atmospheric conditions. This means that you can easily place it anywhere, and you will be sure to receive sufficient ventilation and protection from all elements.
Conclusion
Bioclimatic shading is an eco-friendly means of enjoying outdoor life without suffering the whims of the element. Furthermore, bioclimatic shading systems made in turkey are infused with the best materials and technology to ensure your comfort.