Nothing leaves better memory for guests than an exquisite banquet table. Almost half of the celebration and interaction takes place at the table. If you want to give your guests such an amazing feeling that they cannot forget quickly, you should choose the best wedding banquet table made in Turkey. As leading manufacturers of sleek furniture products, Turkish companies make quality tables available at competitive price points. Parts of the aspects to pay attention to include table decorations, the arrangement of the glassware, and cutlery placement. In this article, we discuss the three things to be careful about while choosing the best wedding banquet table made in Turkey.
T-type impact-proof rubber accessory, embedded sides of table top of a wedding table

It makes the table boundaries visible for guests. During a conversation, wedding visitors may forget that the table has limits. Consequently, some cutleries may slip. However, with a T-type, impact-proof rubber accessory, you can prevent this issue.This model of accessories is important for some reasons:
It enhances the visual appeal of the wedding banquet table. You may choose a rubber accessory with bright colors, which increases the overall beauty of the furniture arrangement.
It is resistant to shocks or impact. As the name implies, it can withstand impact due to increased table load.
It promotes comfort. Sometimes, table edges may be sharp, and they can pierce a guest's hands. However, a T-type, impact-proof rubber accessory covers the sides and allows visitors to place their hands conveniently.
Protection for stacking banquet tables are ensured by a C-frame underneath the table, which is protecting all leg mechanism when it is stacked.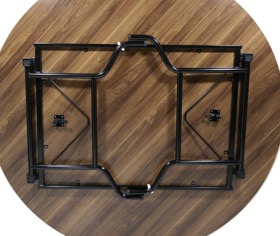 When the wedding ceremony is over, you need to clear the hall and stack the tables. To prevent damages due to compression and stacking, select tables with C-frame underneath them. Therefore, you have minimal worries when you stack them on top of one another. Also, this c-frame structure is metallic, increasing its strength. It ensures that your best wedding banquet tables can last for several years.
Durability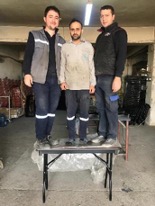 Do you want a strong wedding banquet table that can last for multiple occasions? You should go for metallic or wooden furniture. Although plastic tables are stylish, versatile, and lightweight, they may be unable to withstand the heavy loads due to décor, cutleries, and glassware. Aluminum and steel are common metallic materials for constructing wedding banquet tables. Interestingly, they can withstand people standing on them, thanks to their impressive strength. Asides from that, they are suitable for both indoor and outdoor celebrations. Wooden tables also provide irresistible beauty and strength. When you prioritize durability, you can recoup your initial investment over time.
These are the all important points of choosing the best wedding banquet table made in Turkey.