Introduction
Round banquet tables may come with detached legs or foldable ones. Wooden banquet tables manufactured in Turkey take up a considerable amount of space when they are not properly arranged. The best tool for storing round banquet tables is a trolley. Trolleys that are suitable for carrying and storing round banquet tables can be found in most rental shops and event centers. Apart from creating a temporary store for round banquet tables, the trolleys make it easier for people to move tables from the store to where they are needed. In this post, we look at how to store round banquet tables made in Turkey.

Store in an upstanding rack
Round banquet tables having detachable stands can be removed from the stands before storage. The tabletops are then placed one on the other until the rack is full. In the vertical rack, the banquet tables are places face to face in pairs, while the back of a pair joins with the back of another pair. This way, you can avoid surface scratches and other damages. While stacking up the round tables, you need to ensure that the weight of the tables put together can be accommodated by the trolley. Beware of exceeding the stated weight limit of the trolley.
If you will be storing round wooden banquet tables for a longer period, you can consider spraying the store before stacking up the chairs. This will greatly reduce the likelihood of insect attacks on the furniture. And try as much as possible to prevent wooden furniture from touching the wall or the floor directly. Try padding the wall with nylon material and keep the storage areas dry.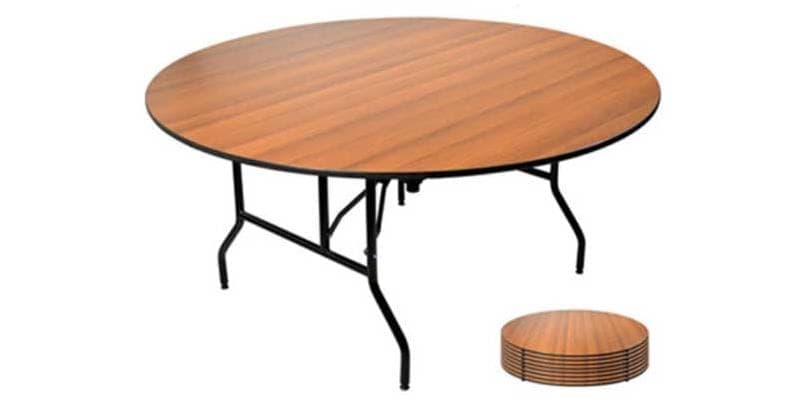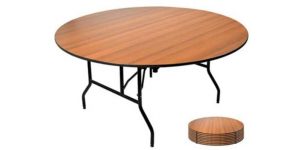 Store in rows and columns
Round tables can be stored in rows and columns to mimick a sachet of tablets. There are big racks that can help you achieve this arrangement. This arrangement is advantageous because it is easy to access different tables at any time. It also saves space as all sides of the rack can be built to hold more than two racks at a time. Racks that are used to store round tables in rows and columns must have strong handles and shrivels. These will prevent the shrivels from separating from the frame easily which may cause lots of round tables to roll around.
Many chair rental businesses also use multipurpose trolleys to store their round banquet tables. The multipurpose trolleys can hold both rectangular and round banquet tables made in Turkey with ease. They often come with adjustable shrivels and handles so users can use them depending on the dimensions of the banquet tables to be stored.
If you are thinking of adding stackable banquet tables made in Turkey to your rental business, we can help you. Our round banquet table manufacturer in Turkey can help you come up with designs that you will love. You can choose from a collection of stackable round banquet tables produced in Turkey or you can request a new design.